A proper and healthy diet is the most effective way to get all the necessary nutrients your body needs. However, if you have poor eating habits or if you have a deficiency, this is where you'll need a health supplement to improve and fulfill your health needs.
Three of the most sought-after nutritional supplements are green lipped mussel, spirulina, and propolis. This is exceptionally true for people who are looking to relieve their joint pain problems, high cholesterol issues, or oral health concerns.
Now with plenty of green lipped mussels, spirulina, and propolis supplement in the market today, it's hard to tell which are the useful ones from simple gimmicks only. How would you know which one to pick?
Think about this: would you choose a health product and supplement easily because it is hyped? Or would you choose a health product that is well-loved by many people as well as manufactured by a company through an expert research and development?
You'd pick the latter, right?
In this case, Sinicare health supplements are the products you are looking for. They offer a wide range of health and cosmetic products to serve your needs and more!
In this article, we'll explore Sinicare's best three health supplements – green lipped mussel, spirulina, and propolis – which are all pure, safe and proudly Australian-made.
Rundown of contents:
For Healthy Joints: Sinicare Green Lipped Mussel
What is Green Lipped Mussel?
Benefits of Green Lipped Mussel
Sinicare's Green Lipped Cream and Capsule
For Healthy Heart: Sinicare Mega Spirulina
What is Spirulina?
Benefits of Spirulina
Sinicare Mega Spirulina Capsule
For Wound Management: Sinicare's Propolis
What is Propolis
Benefits of Propolis
Sinicare's Propolis Products
Behind the Product: Sinicare
Let's get right into it!
For Healthy Joints: Sinicare Green Lipped Mussel
What is Green Lipped Mussel?
Regarded to be one of the environment-friendly species of seafood in many countries, the green-lipped mussel boasts many remarkable health benefits.
Green lipped mussel extracts are known to have essential nutritional contents such as glycosaminoglycans, carbohydrates, protein, minerals, and omega 3 fatty acids. Several scientific studies suggest that omega 3 fatty acids have restorative and anti-inflammatory properties which are essential in maintaining and nourishing joint function.
Benefits of Green Lipped Mussel
Green lipped mussel products are popular among health supplement consumers. It promotes positive impacts in your body as it contains some of the basic nutrients like carbohydrates, protein, and omega 3 fatty acids. It's recognized for its antioxidants and anti-inflammatory effects as well, making it the perfect complimentary supplement for people dealing with osteoarthritis, and rheumatoid arthritis.
Additionally, the green-lipped mussel is known for promoting good hair and skin health. It aids in lessening early skin aging, and decreases wheezes for those with asthma.
Green Lipped Mussel Cream and Capsule
To serve their customers best, Sinicare Green Lipped Mussel comes into two variants:
Green Lipped Mussel Cream: Effective Heating Cream comes in a tube container that makes it easy for customers to apply the product onto the painful areas. This product provides quick and steady intense heat to relieve joint pains in many areas of your body.
On the other hand, Mega Green Lipped Mussel is available in a bottled container. Customers can opt to choose between bottles with 180 capsules or 365 capsules. Similar to the cream variant, this product promotes symptom relief associated with osteoarthritis and rheumatism such as joints swelling and pain.
For Healthy Heart: Sinicare Mega Spirulina
What is Spirulina?
Considered as one of the most nutrient-loaded foods on earth, Spirulina is a type of cyanobacteria, or simply blue-green algae, that can be found in salt and freshwater. Naturally, this has become one of the customer's all-time favorite health supplements.
Spirulina is packed with nutrients that most of which aren't present in an average person's daily diet. Some studies suggest that Spirulina has significant amounts of amino acids, calcium, iron, magnesium, vitamin B, and protein which consists most of Spirulina's dry mass.
It's a superfood, indeed.
Sinicare Mega Spirulina Capsule
Sinicare offers their top of the line Spirulina health supplement in the form of a Mega Spirulina capsule. This freshwater plant-based superfood has been contained in a bottled packaging that contains 500 capsules per bottle.
According to Sinicare's recommendation, you can take 1 to 4 capsules as one serving every day of Mega Spirulina for better results.
Please note that if you have present medical conditions, you should also take into consideration your general physician's advice on whether you can take this as a supplement.
Benefits of Spirulina
As claimed by experts' studies, it is highly recommended to take Spirulina supplement daily to acquire the approved regular amounts of nutrients it carries. 
As people age, heart problems are one of the many medical conditions that result in death around the world. Sinicare's Mega Spirulina have favorable effects on your body's heart functions. It lowers LDL cholesterol (bad) while increasing HDL cholesterol (good) at the same time, and triglycerides levels in your body.
Spirulina is a rich source of antioxidants as well that stops the oxidation of fats in your body which is the cause of different medical diseases. In simple words, Spirulina aids in keeping you healthy.
Further health advantages of Spirulina are enhanced muscle strength, helps in controlling your blood sugar, and lessens symptoms of allergic rhinitis due to its anti-inflammatory effects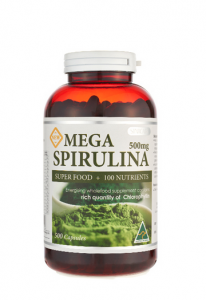 For Wound Management: Sinicare's Propolis Supplements
What is Propolis?
Propolis, or simply known as "bee glue", is the sticky substance that bees collect from several plants like eucalyptus. This gooey material is responsible for sealing off the holes and gaps and the overall restoration of beehives.
One of the most vital ingredients of bee products, propolis consists of resin, wax, essential oils, pollen, and extra organic elements. Also, it contains necessary nourishment for your body like B, C, and E vitamins, as well as minerals (copper, iron, manganese, magnesium, sodium, etc.).
Benefits of Propolis
Propolis has been acknowledged by many health product manufacturers' for its countless ways to be applied when dealing with different diseases.
It prevents and eases the growth of microorganisms, destroys bacteria, reduces redness and swelling, protects your cells against diseases, stops the growth of fungi, and regulates your immune system.
Sinicare's Propolis Products
Perhaps Propolis is Sinicare's most popular product yet. Due to Propolis's multiple health benefits and, ultimately, providing to their customer's wide range of health needs, they crafted more than 10 Propolis products!
Here are some of their top-selling Sinicare Propolis products:
The Sinicare Propolis capsule has 3 variations available to their customers. Propolis 6000 mg (30 capsules), Propolis 3700 mg (180 capsules), and Propolis 2000 mg (365 capsules). These variants are perfect options according to the customers' needs and budget.
Due to Propolis' antibacterial properties and ability to stop plaque formation around the teeth, Sinicare also offers Propolis Toothpaste. Available for adults (Propolis Toothpaste) and children (Kids' Propolis Toothpaste).
Alternatively, for easy application, Sinicare produces Propolis mouth sprays and mouthwashes as well such as Dr. Propolis Spray, Propolis Oral Detox, Oral Propolex Propolis Liquid, Propolis Anti-pollution Mouth Spray.
Another reason why Propolis is highly in-demand because of its dermatological benefits. For this reason, Sinicare took the liberty to create an entire line of skincare products with propolis as the main ingredient. From cleanser, toner, emulsion to face masks, Sinicare got your skincare routine covered – and with proven results!
Sinicare provided guidelines on how to use each of these products to gain your desired results. You can visit their official website for more information.
It's also recommended to seek the advice of your general practitioner, or any health care professional before using these products. You should take this into consideration especially if you have existing medical conditions.
Sinicare's green lipped mussel, spirulina, and propolis products are truly at the top of their game. Loaded with various health benefits, the green lipped mussel helps in relieving your joint pains and swelling, spirulina supplements ensure your heart is healthy, and propolis works to promote good oral hygiene and keeps your skin at its healthiest!
Supported by competent research and safe and potent formulation, you shouldn't look for any products other than Sinicare's supplements.
Behind the Product: Sinicare Australia
For more than 20 years, Sinicare has been constant in producing high-quality products and excellent customer service all around the globe.
With more than 140 products and counting, Sinicare is a dedicated cosmetic and health company based in Australia with a primary goal of bringing 'health to humanity, beauty to the world'. Their products are based on the 100% natural ingredients found in Australia. They offer several cosmetic and health supplements to satisfy and meet the demands of their diverse audience. Their flagship products are Placenta Cream, PawPaw Cream, and Oral Sprays.
Sinicare's modern and innovative facility is built through expert research and development. They boast their cutting-edge technology and sustainable process of operation which allows them to produce safe and top-quality products.
For these reasons, they successfully cater to the various health and cosmetics needs of their customers locally and internationally.